Danielle Bryant (Holistic Dani)
Website: www.holisticdani.co.uk
Dani is an holistic therapist qualified in Nutritional Therapy, Kinesiology, Reflexology and Homeopathy and she has a diploma in Holistic Diagnosis Skills. She is also qualified as a Reiki Master/Teacher, Angel Master/Teacher and Hatha Yoga Teacher.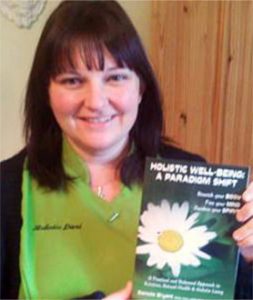 She has practiced Yoga since 1997, and her path of study and research began back in 2005 with Reiki Healing. Her path continues today as she is currently a student of Advanced Aromatherapy, Massage Therapy and Nutrition for Cancer Prevention and Longevity with plans to further study Herbalism, Chinese Massage and Acupressure. Dani is an original co-founder of Shop Holistic and along with her qualifications and study, she has extensively researched into Body Detox and Natural Health for the business.
Dani has had a colourful personal health journey including persistent candida, fibromyalgia and more recently breast cancer (which she cured naturally, of course), the experiences of which have enabled her to empathise with and advise others who are challenged with health problems.
She is a health freedom activist, spreading awareness of Natural and Alternative health through public speaking, through writing her book Holistic Well-being: A Paradigm Shift and The Holistic Show on Youtube!